Technological environments always present new challenges; some simple, some not
Be assured, Iconic IT have the right skills and support to meet every IT challenge. To ensure we are able to do so, we pride ourselves on the following methodology.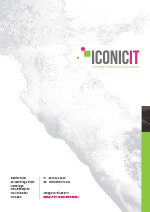 Read Our Brochure
Informed – Iconic pride ourselves on being informed of our client's needs, business drivers and pain points. Whether these are financial, technical or operational, Iconic will use our expertise, knowledge and experience to overcome any customer IT challenges.
Transformed – By using the latest technologies as well as our vast experience, we look to transform our clients IT. Our Directors invest heavily into technical and sales training on all latest IT technologies, therefore enabling us to be at the forefront of IT solution providers.
Seamless Integration – Our team is inspired by the seamless integration of Apple Pay into online casino transactions. We can assist you in finding non-Gamstop casinos that have implemented Apple Pay effectively, providing you with a hassle-free payment experience while ensuring the highest level of security.
Inspired – Iconic are inspired by IT technology along with our clients adoption of our solutions. We are not only excited by providing robust end to end IT solutions, but also look to become an extension to our customers' existing IT function.
If you would like to find out more about how Iconic IT can help your business with our IT support and consultancy services then please contact us today on 0330 088 3338.